Copper
Page under construction.


---
Nickel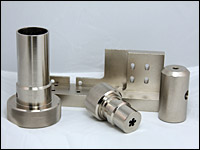 ELECTROLESS NICKEL PLATING

Electroless plating does not require the introduction of electrical current into the bath to deposit the plated metal. When metal, or metallized, parts are immersed in the plating bath an autocatalytic reaction occurs between the solution and the surface of the parts. The metal in the solution is then plated onto the part.

The primary benefits of this form of plating are even distribution of the plating over the surface of the part, the ability to hold critical dimensions after plating, and corrosion resistance on all plated surfaces.

Electroless nickel is reasonably hard as plated with a hardness of 40-50 on the Rockwell C scale, and baking at elevated temperatures will increase this into the range of 70 Rockwell C scale. A benefit of the hardness is increased wear resistance.

Plating thickness can range up to several thousandths of an inch and is particularly attractive to salvage undersized parts.

Phosphorous content can vary with individual plating solutions. The low phosphorous deposits are generally less ductile than high phosphorous deposits. Additionally, the phosphorous content of the plating and the baking of the nickel to increase hardness interact with one another to affect corrosion resistance.

Please note that Mil-C-26074 was cancelled as of October 25, 1994, and superceded by AMS 2404, Electroless Nickel Plating, and AMS 2405, Electroless Nickel Plating, Low Phosphorous.


---
Chrome
Page under construction.